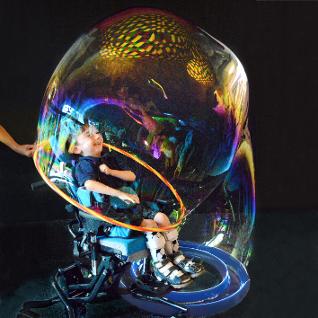 Gentle, informal, sensory, bubble fun for children with all kinds of special needs & disabilities. We put everyone inside beautiful Giant Bubbles! Early Years teacher Bonnie uses bubbles to gently encourage children with autism to focus & participate, to take turns, make eye contact, request more...and of course to have fun. Giant bubbles will come down over wheelchair users so nobody is left out.

For all ages. Birthday parties, Special Schools & Nurseries, Hospitals, Support groups, Hospices.

The children can all join in playing with scented bouncy bubbles, and blowing bubbles inside bubbles. We use dry ice to make exciting 'smoke' bubbles to feel and hold and we encourage everyone to come to be put inside Giant Bubbles if they want to. They do love this! Each child is given plenty of time to choose to come and be put inside a giant bubble and to play with "smoke" bubbles. The bubbling is all enhanced with soft music.

Bonnie the Bubble Lady has been creating bubbles for many years with children and young people with all kinds of special needs, such as autism, down's syndrome, hearing loss, multiple physical disabilities and many more.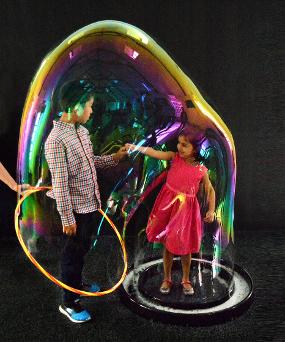 Autism
"We are so glad we found you Bonnie and Dan for our son's 10th birthday party!! He loves birthday parties but finds it extremely difficult to sit through or enjoy any traditional birthday party. He can't sit for long periods and finds listening and following instructions very tricky. He has autism and global developmental delays.
He loves his bubbles and your bubbles made it the best birthday party ever!!! It left him and his neurotypical classmates in awe and wonder. Their smiles and excitement was palpable throughout the party. He too didn't want to be anywhere else but with his friends to enjoy the bubbles. You gave him and us the biggest smiles and rainbow colours, memories of which will stay with him forever." Shruti and Devang, SW London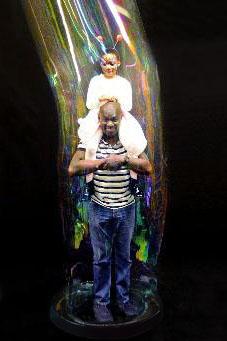 "Thanks so much for your wonderful and excellent party entertainment. My autistic 6 year old and all her friends and parents had a blast considering it's her first birthday party ever. It's still being talked about in her school. Dan, the pictures are to die for. My daughters call them the bomb. We will surely be seeing you again if she ever asks for a party. Thanks ever so much." Ediri, NW London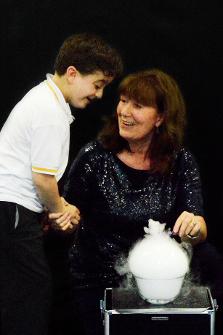 We will make a
bubble volcano
erupt!
A giant bubble
will come down
over a wheelchair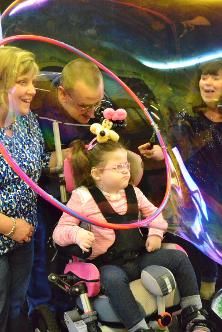 SEND:
"Just wanted to say thank you very much for coming to our daughter's party yesterday, it was an amazing experience that both her little friends (and the grown ups!) thoroughly enjoyed. Your show was everything we wanted it to be for her and her friends, thanks again."
Jackie and Chris, Kent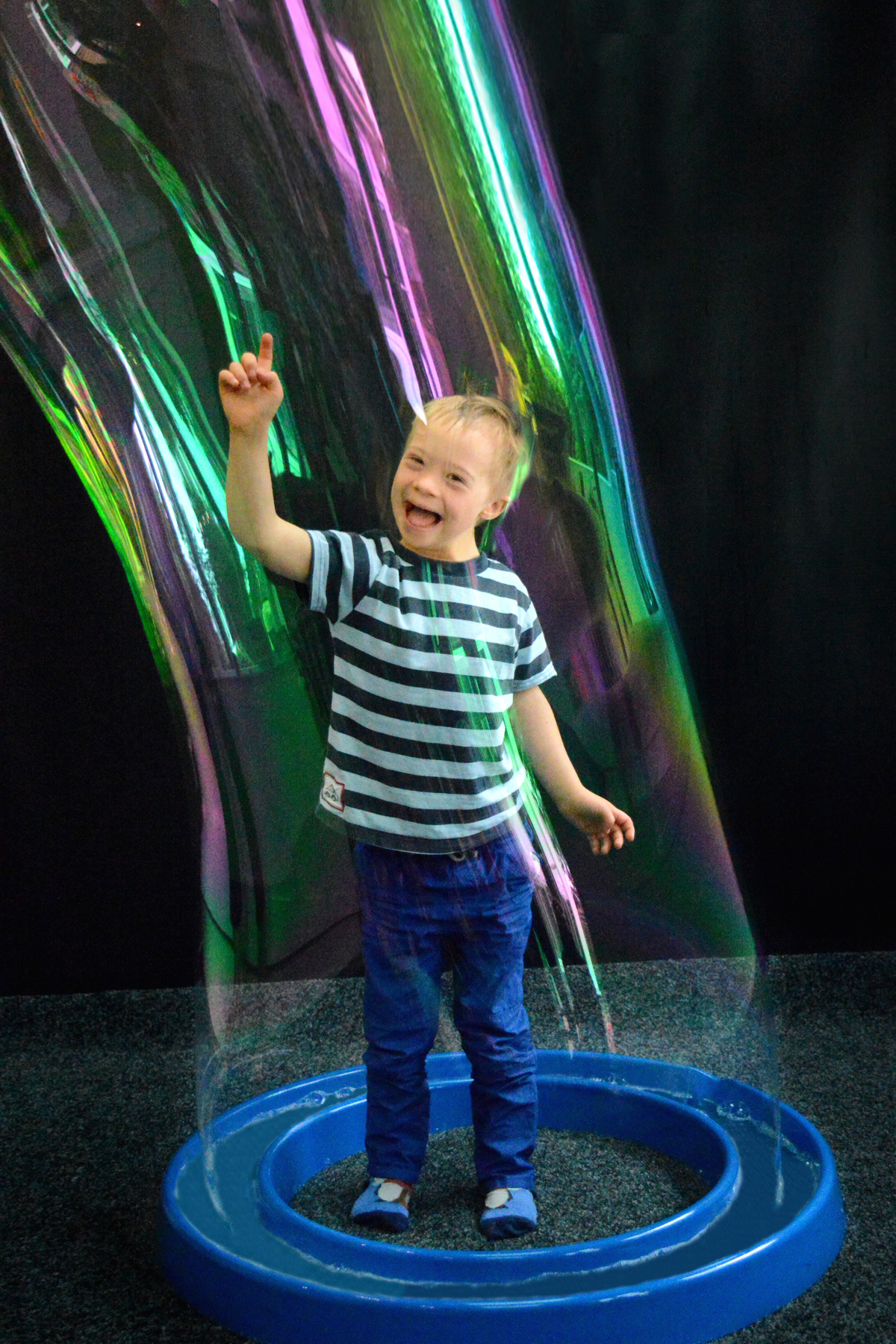 Pop!
Down's Syndrome
"Thank you for making my son's 6th birthday wonderfully special and for giving us beautiful memories to keep for years to come. Our son, who has Down's Syndrome, was unwell when he was younger so this was his first birthday party with friends. We invited children of varying ages and abilities, all of whom you included while still making the birthday boy feel important.
The Giant Bubbles are magical and every family treasures their photographs of these. We were especially impressed with the Smoke Bubbles, the children were all captivated. Most of all it was your warm and personable approach that made us feel perfectly happy to have you in our home and to share such a special occasion with you. I encourage any family looking for a unique and fun birthday treat for all ages to use Bubble Shows and I highly recommend using Dan's photography skills for this and any other occasion. Thank you so much." Sarah, Harpenden, Herts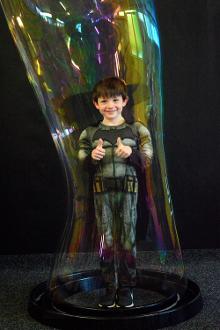 Speech & language
"Thank you for being so understanding to our little boy's anxiety issues around speaking. I was delighted to see him participate throughout the show and as you could see he really enjoyed it. He told me after the party what a great time he had and how much he loved the bubble show.
Thank you again for making his day even more special." Alison & Dave, New Malden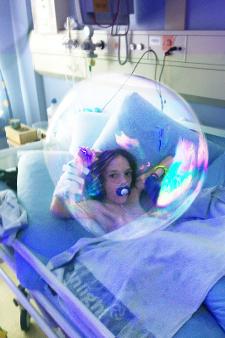 In hospital
soapbubbles are fun