A Bubble Show is something unique and unusual for your party with beautiful giant soap bubbles to stand inside.
The entertainment is interactive and is suitable for all ages.
At children's parties we will gently help even the youngest child to join in with our beautiful soap bubbles.
The birthday child can help us to create different sorts of bubbles for everyone to watch including a bubble hairdresser, bubbles inside bubbles, bouncing bubbles and rainbow bubbles.
Then the children all have turns standing inside giant bubbles, which they love!
The bubbling is gentle and informal and adults are welcome to stand in a bubble too.
All the bubbling is enhanced with music.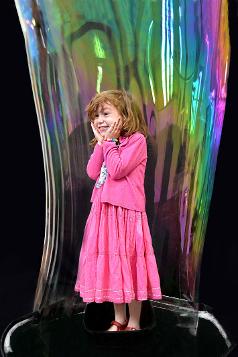 It is lots of fun and the bubbles keep the children quietly fascinated. They join in rather than just watching so about 20 is an ideal maximum number so they don't have long to wait for a turn.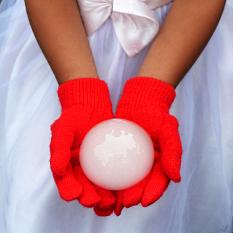 We use dry ice to create volcano
bubbles and exciting, touchable
"smoke" filled bubbles for all the children to hold in their hands.
One hour Bubble Party £220
Comfortably fill a two hour Bubble Party £250
You may have a break for the party food after the first half of the show, when all the children have had a turn inside a giant bubble. This is ideal for younger children because they enjoy lots of bubbling without sitting for too long.

Morning parties between 10am-1pm
Afternoon parties from 3pm
Space
A draught free performance area 3m x 3m is ideal with 2.5m height for the giant bubbles. The floor in your home or venue will be covered so there is no mess for you to worry about and the children can sit on a cloth on the floor to join in. They won't get wet.
Photographs
If you wish, our photographer Dan will photograph everyone inside their giant bubbles and make up mounted photographs or photo key rings at your party.
Please see the Photographer page for details.